The Nairobi-based Pan-African housing development financier Shelter Afrique has appointed Thierno-Habib Hann as its new Managing Director and Chief Executive Officer.
NAIROBI, KENYA | NOW THEN DIGITAL — Mr Thierno-Habib Hann has assumed the position of the new Managing Director and Chief Executive Officer of the Nairobi-based Pan-African housing development financier Shelter Afrique following his appointment in August last year.
Having been appointed as the 

new Chief Executive Officer and Managing Director of Shelter Afrique in August last year, Thierno-Habib Hann has assumed

 the role of Managing Director and Chief Executive Officer.

With more than 20 years of international experience in housing finance, financial markets and investment banking, Hann Habib brings to the Company a wealth of knowledge.

In addition to his experience in the private and public sectors, Mr Hann has worked with development finance institutions (DFIs

).
Mr Thierno-Habib Hann joins Shelter Afrique from the International Finance Corporation (IFC), where he served as the Asia/Pacific Lead for housing finance, based in Bangkok, Thailand.
He takes over from Mr Kingsley Muwowo, who has been serving in an acting capacity following the change in management last year.
Mr Hann has extensive international experience in housing finance, capital markets/investment banking and structured finance spanning over 20 years. He brings a wealth of leadership experience in development and investment, sharp insight into the real estate landscape and a strong track record of delivery. 
He is expected to strengthen governance, be an embodiment of the organisation's values and drive the investment strategy of the Company focused on delivering large-scale affordable housing.
Speaking on his appointment, Mr Hann expressed his gratitude and appreciation, "I'm happy and honoured to take on the new role at Shelter Afrique; I would like to extend my appreciation to the Shareholders and the Board of Directors for their confidence in me. I would like to thank the staff, partners and stakeholders for their warm welcome and their commitment to the mandate of Shelter-Afrique." 
"I am also grateful to my former colleagues at the IFC and World Bank. The institution and title may have changed, but I believe we all share a joint commitment and goal of developing our world and I look forward to collaborating with them. I would especially like to thank Mr Kingsley Muwowo for the role he has played in the transition and for his personal and professional support; his service to the Company as CFO and eventually as Acting CEO has been invaluable to the Company."
Mr Thierno-Habib Hann continued on the significance of Shelter-Afrique and affordable housing on the continent, "Housing is critical to the development of any nation, and Shelter-Afrique's mandate is both unique and important, particularly as many African countries face a significant turning point in their housing agenda. We want to be part of this turning point. It is an honour to lead this team, and together, we will work towards harnessing national resources to improve local populations' living conditions and to achieve Shelter Afrique's mandate,"
A brief history of Thierno-Habib's career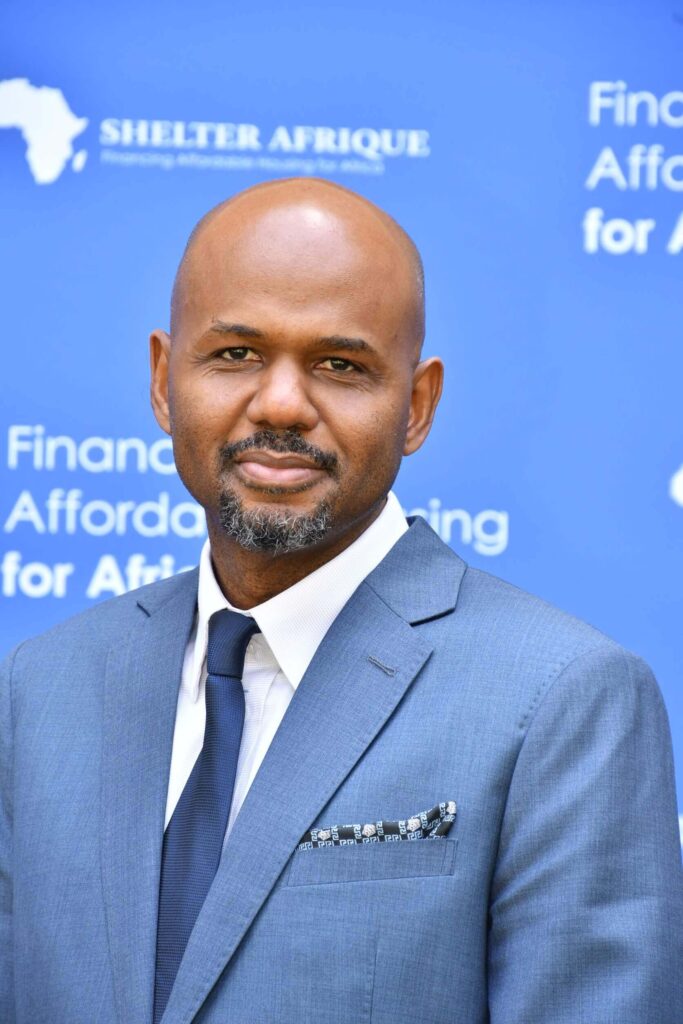 Mr Thierno-Habib Hann began his career at the consulting firm Arthur Andersen, LLC as a Senior Consultant in Financial Services and Capital Markets in New York City. 
He has worked at JPMorgan Chase and Goldman Sachs as Manager and Vice President, respectively and led investment teams issuing mortgage-backed securities (RMBS/CMO) and credit derivatives (CDS) in these organisations. 
He also served at the World Bank Group as the Private Sector Development Program Manager in Guinea, responsible for designing and implementing the business climate improvement program while developing a bankable pipeline of investments and government advisory projects in strategic sectors of the economy.
Hann holds an MBA in Finance & Investments from the Zicklin School of Business, Bernard Baruch, City University of New York; a master's degree in Accounting and Finance (M.S.T.C.F) and a bachelor's degree in Management and Applied Economics (GEA), from Paris IX Dauphine University, with honours.
A native of Guinea (Conakry), Habib is the co-founder of "AngelAfrica" – a Pan-African thinktank formed to achieve economic prosperity on the continent by building and fostering innovative technological ideas, investors and business partnerships.
Thierno-Habib Hann on his new beginning with Shelter Afrique 
Speaking on his plans for Shelter Afrique, the new Managing Director emphasised his focus on growing the portfolio with quality assets, generating impact for stakeholders, and ensuring shoring up the organisation's capital base. 
He said:
"My immediate focus will be to optimise the organisation's performance and ensure we deliver on our mandate. To do this, in the immediate term, management is committed to strengthening the brand and corporate governance, ensuring financial sustainability with a strong execution capability, strengthening risk management framework as well as deepening capacity within the organisation and advocating for innovative solutions in the delivery of affordable housing."

"I also plan to embark on broad stakeholder engagement to understand other ways to address our mandate; we welcome the views of our shareholders and partners as the task of delivering affordable housing is a shared one, and no single organisation can address the growing housing crisis alone".
Thierno-Habib also commented on the current organisation renewal and corporate governance, "We are very pleased that as part of our renewal, our Board has nominated two women to lead as Chairperson and Vice-Chairperson for the first time in our history. We look forward to their stewardship and vision for the organisation".
Editor's Note: If you find any of our content to be inaccurate or outdated, please contact us at press@nowthendigital.com
You're reading nowthendigital.com — which breaks the news about Uganda, Kenya, Nigeria, South Africa and the rest of the world, day after day. Be sure to check out our homepage for all the latest news, and follow NOW THEN DIGITAL on YouTube, Google, Web Stories, Google News, Medium, Twitter, Reddit, Pinterest, Linktr, Buy Me a Coffee, and Flipboard to stay in the loop.