There are two common types of shoulder labral tears: the SLAP tear and the Bankart tear. Both types typically cause persistent pain and hinder normal shoulder motions.
CUPERTINO, CALIFORNIA | NOW THEN DIGITAL — To diagnose shoulder labrum tear, your physician will gather medical history information and conduct a physical exam. They may also suggest physical therapy as part of their diagnosis plan.
X-rays should be performed to rule out other injuries, and an MRI or arthroscope examination may be necessary to confirm a diagnosis.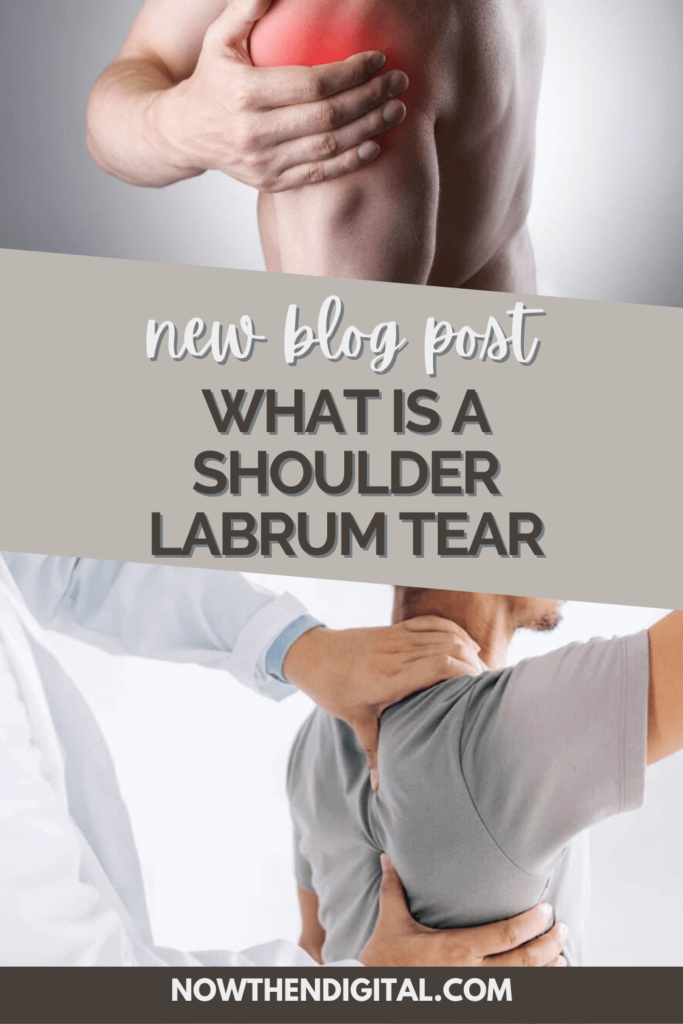 What is Shoulder Labrum Tear?
A shoulder labrum tear, a wound to the specialized shoulder cartilage called the labrum, proves a challenge. Thick tissue on the rim of the shoulder socket holds the joint's ball in place. Three ways the tear may occur:
– Separation from the bone
– Within or along the labrum's edge
– Attachment point of the bicep tendon
Indications of a labrum tear include shoulder pain, instability, and the sense of grinding, locking, or catching during movement. Symptoms differ based on the tear type: SLAP tear or Bankart tear, most frequent ones.
SLAP tears, or "superior labrum from anterior to posterior," occur at the front of the upper arm where the biceps tendon attaches to the shoulder. This injury is often prevalent among baseball pitchers and volleyball players who engage in dynamic, rapid motions over the shoulder. Pain near the biceps tendon is a common symptom.
"Athletes most prone to this injury include baseball pitchers and volleyball players who engage in high-energy, quick-snap motions over the top of the shoulder," says Dr. Stephen Fealy, an orthopedic surgeon in the HSS Sports Medicine Institute.
Bankart tears are frequently seen in younger individuals who have experienced a shoulder dislocation. When the shoulder joint ball slips out of its socket, the joint capsule pulls on the lower part of the labrum, resulting in a tear. This instability makes subsequent dislocations more likely. Anterior instability occurs when the humerus head shifts forward, while posterior instability occurs when it moves backward.
Detecting the tear involves a physical examination, an MRI, CT scan, or shoulder arthroscopy. Treatment relies on injury severity and patient activity level. Non-athletes may find relief through anti-inflammatory medication, injections, and physical therapy. Athletes yearning for field time may opt for surgery.
A noteworthy point: the labrum may tear at the back socket, known as a posterior labral tear. Trauma or degeneration from everyday use can cause this. Traumatic instances include falling on an outstretched arm, a direct shoulder blow, or a sudden pull when lifting heavy objects.
Ultimately, some labral tears mend sans surgery, but the chance increases for non-athletes. Athletes desiring a sporty return often resort to surgical repair.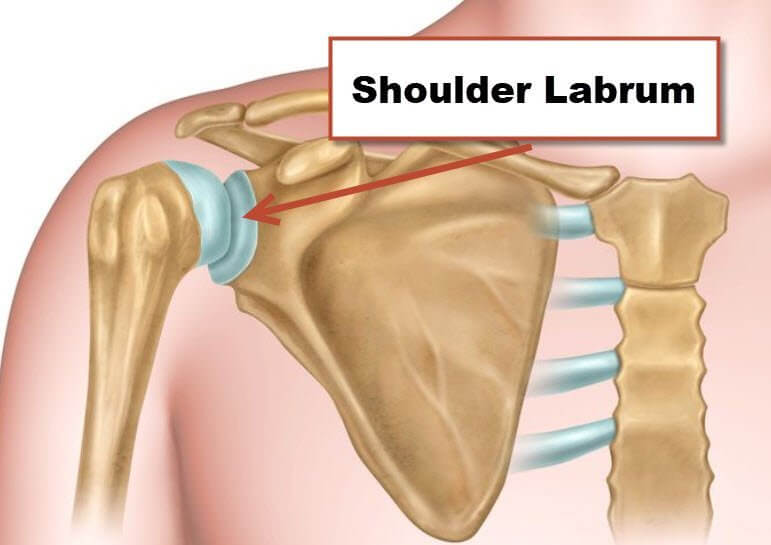 Symptoms
Labrum tears typically cause deep shoulder joint pain, tenderness on touching and the sensation that their shoulder might slip out of its socket. Furthermore, patients may experience clicking or popping noises when performing overhead activities like throwing a ball or reaching up for items high up on shelves.
Your doctor will ask about your symptoms and perform a physical exam, touching around the injured area to check range of motion, strength and flexibility. They may use manual assessments such as the "clunk" test and O'Brien test to help diagnose labrum tears.
Labrum tears typically do not require surgery and can often be effectively managed with rest, ice therapy, nonsteroidal anti-inflammatory medication (such as Ibuprofen) and physical therapy for the shoulder that begins slowly with range-of-motion exercises before progressing into strengthening exercises – this rehabilitation could take six months to achieve full recovery from this injury.
Diagnosis
As shoulder labrum tears were once very small and easily confused with other injuries, doctors would often overlook them. Thanks to advances in medical technology, it has become easier for physicians to detect and treat this form of injury more accurately; using an MRI scan or performing an arthroscopic surgery for instance will allow a clearer view of both labrums and surrounding tissues.
Your physician can diagnose a labral tear by collecting information regarding your symptoms and medical history before conducting a physical exam, including moving your arm in various positions to test for pain or clicking/popping sensations.
If test results reveal a labrum tear, additional tests may be performed in order to ascertain its severity; alternatively an X-ray could also be ordered to rule out other injuries; such as the rotator cuff or dislocated shoulder which could also cause symptoms.
Physical examination is often the first step to diagnosing a labral tear. Your physician will evaluate shoulder and arm movement, stability and pain levels before ordering tests such as X-rays, magnetic resonance imaging (MRI) scans or CT-arthrograms with dye added for better imaging.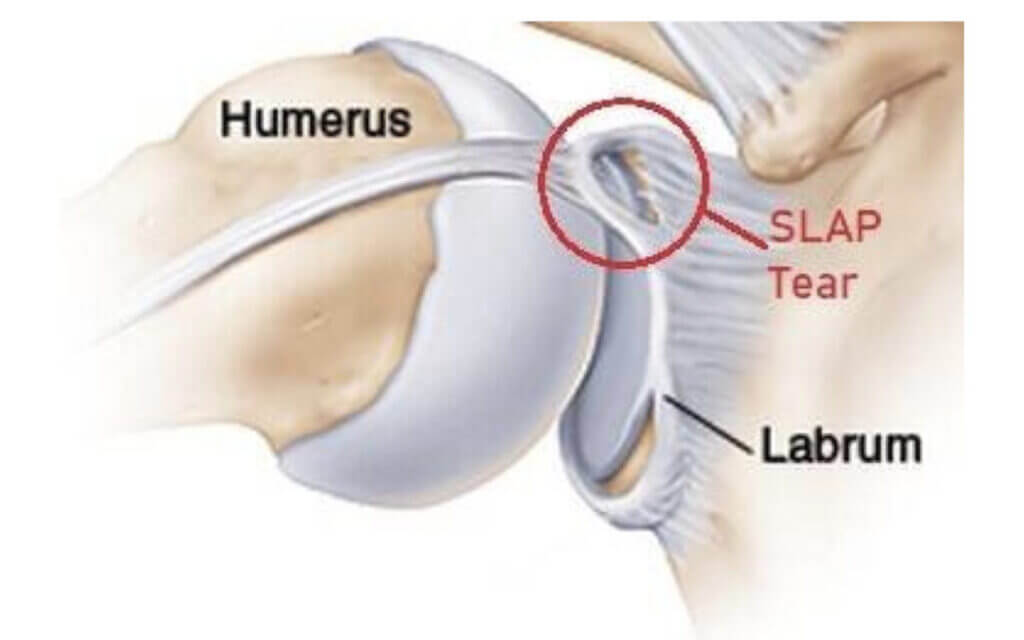 Treatment
Your doctor may suggest surgery if nonsurgical treatments do not alleviate your pain and prevent further damage to the shoulder labrum. Your surgical plan will depend on the type, severity, and age of the tear in question.
Most labral tears are repaired using arthroscopy; during this procedure a surgeon inserts a small camera through a tiny incision in front of the shoulder and into the joint through which damage occurred, to view damaged tissues in greater detail and repair them more effectively.
Another popular surgical approach used to repair SLAP tears is known as biceps tendonodesis which moves them back into position on top of humeral head for better functionality and pain relief.
Before surgery, your physician will take a complete medical history and perform a physical exam that includes manual evaluation of both shoulder and injury area as well as range of motion, strength and flexibility tests on it. He or she may also conduct "clunk" and O'Brien tests in order to assess the condition of shoulder labrum.
If conservative treatment fails to provide relief from your symptoms, surgery to repair the labrum may be required. Most often this procedure is known as arthroscopy: your surgeon makes a small incision to insert an arthroscope that displays images on a screen and allows them to use miniature surgical instruments to trim or repair tears in your labrum.
Recovery Time for a Labrum Tear
The duration of recuperation for a labrum tear hinges on diverse factors: injury severity, surgical procedure, and patient activity level. Below, rough approximations sourced from investigations are presented:
For non-athletes, remedies often involve anti-inflammatory medication, injections, and physical therapy. If the tear isn't grave, rest and physical therapy may prompt autonomous healing.
When surgical intervention becomes necessary, recovery duration varies according to the procedure and extent of the damage. Generally, it takes around 6 to 8 weeks for the labrum to attach to the bone, followed by another 6 weeks for shoulder joint fortification.
Most individuals can undertake sports-specific training after three months of surgery, with full sports engagement resuming between four and six months. Athletes, especially those engaged in overhead throwing, may necessitate six months to a year to fully recuperate.
All in all, expect a recovery span of three to six months for shoulder surgery addressing a torn labrum. However, keep in mind that healing time differs among patients due to the varying gravity of their injury, type of surgery, natural healing rate, and other factors.
The average recuperation time for arthroscopic labral repair falls within 16-24 weeks.
Adherence to the directives of medical professionals and physical therapists is crucial throughout the recovery trajectory. They will furnish guidance on the appropriate initiation of activities and exercises to restore strength and mobility in the shoulder. Remember, each patient's injury is distinct, making recovery time an individualized affair.
Nonsteroidal anti-inflammatory drugs such as ibuprofen and ice can help ease pain and inflammation, while injection of corticosteroid can provide lasting pain relief – with local anesthesia used first as a buffer before giving an injection.

"If fixed properly, most athletes should be able to return to at least 80 percent of their pre-injury level of play," said Dr. Fealy.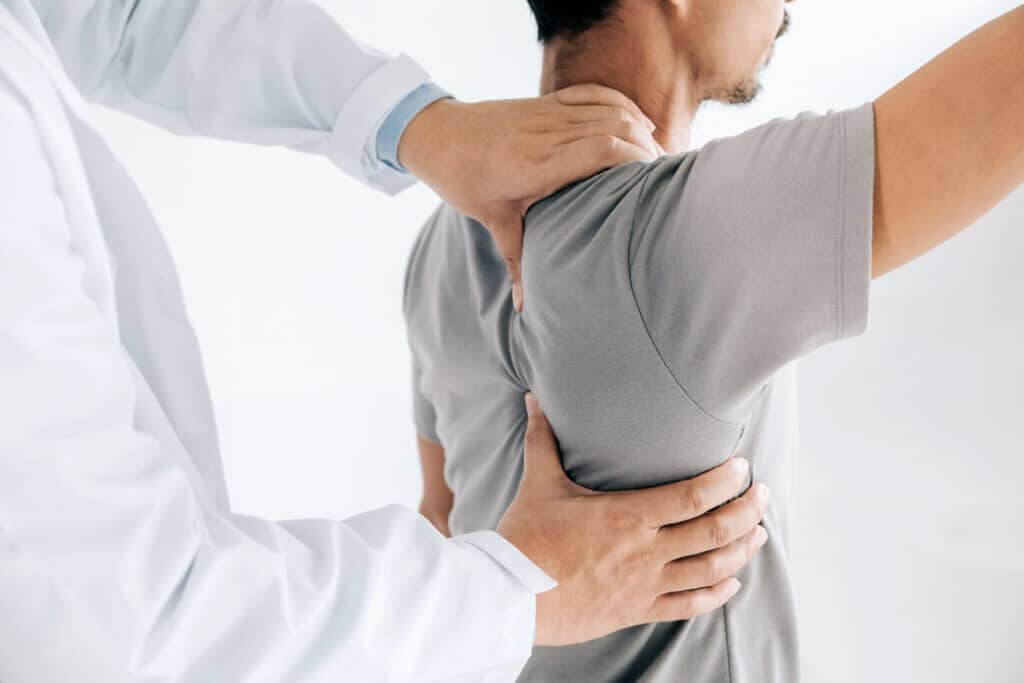 Frequently Asked Questions
Q1: What is the labrum?
A: The labrum is a type of cartilage found in the shoulder joint, which acts as a bumper and helps deepen the socket to keep the ball of the joint in place. It is different from the articular cartilage, which covers the ends of the bones and allows them to glide smoothly.
Q2: What are the functions of the labrum?
A: The labrum has two main functions. Firstly, it deepens the socket, ensuring the ball stays in place within the shoulder joint. Secondly, it serves as an attachment point for ligaments and structures such as the biceps tendon.
Q3: How is a labrum tear diagnosed?
A: Diagnosing a labrum tear involves a physical examination by a physician, but it can be challenging due to the deep location of the cartilage. Additional tests, such as MRI scans or CT-arthrograms, are often necessary to confirm the diagnosis, especially for specific types of tears like SLAP lesions.
Q4: What are the different types of labrum tears?
A: Labrum tears can occur in different ways. The first type is a complete tear where the labrum is detached from the bone, often associated with shoulder subluxation or dislocation. The second type involves tearing within the substance of the labrum, which may cause fraying of the edges. SLAP lesions refer to tears in the area where the biceps tendon attaches to the upper end of the socket.
Q5: What is the treatment for labrum tears?
A: Treatment for labrum tears depends on the type, severity, and location of the tear. Tears caused by shoulder instability typically require surgical reattachment of the labrum to the rim of the socket. In cases where the labrum is frayed or has a large tear, it may be trimmed or repaired. SLAP lesions are often treated with arthroscopic surgery to reattach the labrum using sutures or tacks.
Q6: What is the recovery process after labrum surgery?
A: The recovery period after labrum surgery varies based on factors such as tear location, severity, and the success of the surgical repair. It generally takes around four to six weeks for the labrum to reattach to the bone and another four to six weeks to regain strength. The rehabilitation process involves gradually increasing motion and strengthening exercises. The surgeon will provide specific guidelines on activity restrictions and returning to sports or other activities. Most patients achieve full shoulder function and can resume their previous level of sports participation with few or no restrictions.
Editor's Note: If you find any of our content to be inaccurate or outdated, please contact us at press@nowthendigital.com
You're reading nowthendigital.com — which breaks the news about Uganda, Kenya, Nigeria, South Africa and the rest of the world, day after day. Be sure to check out our homepage for all the latest news, and follow NOW THEN DIGITAL on YouTube, Google, Web Stories, Google News, Medium, LinkedIn, Twitter, Reddit, Pinterest, Linktr, Buy Me a Coffee, Truth Social, and Flipboard to stay in the loop.