HYBE announced this renewal in a regulatory filing, stating that the Board of Directors had approved the renewal of the exclusive contracts for all seven BTS members.
KAMPALA, UGANDA | NOW THEN DIGITAL — BTS and HYBE have made a significant announcement. All seven members of the renowned K-pop group have renewed their contracts with the Korean entertainment giant.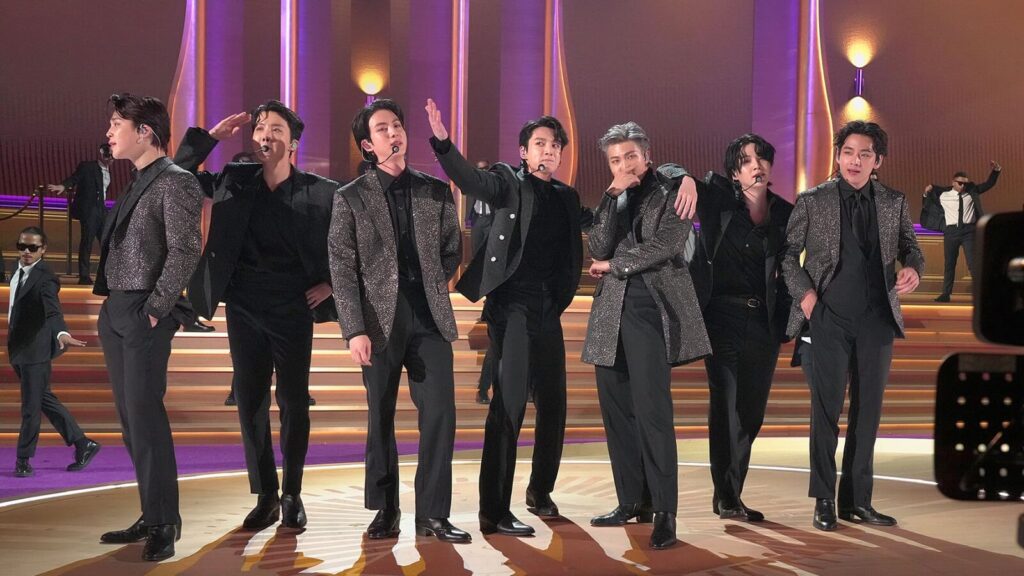 This news came to light through a regulatory filing made by HYBE on Wednesday (September 20). In the filing, HYBE stated, "Our company has completed the Board of Directors' resolution to renew the exclusive contracts of seven BTS members." They added that disclosing this information was crucial as it could impact the company's financial status and investor decision-making.
"Our company has completed the Board of Directors' resolution to renew the exclusive contracts of seven BTS members", the statement reads in part.
BTS consists of the following members: RM, Jin, SUGA, j-hope, Jimin, V, and Jung Kook.
Back in 2010, HYBE (formerly known as Big Hit Entertainment) initiated the formation of BTS, starting with the recruitment of RM as the group's first member, followed by nationwide auditions to find the remaining members. BTS made their debut in 2013.
Notably, in October 2018, HYBE confirmed that each of the seven members had extended their contracts for an additional seven years, taking them through 2024/2025. However, the recent filing did not specify the duration of these new contracts.
Local media outlets, including Koreaboo and Kpopstarz, reported the news, quoting a statement from HYBE that expressed the hope for a full group promotional period for BTS in 2025, thanks to the contract renewals. HYBE also pledged unwavering support to enhance BTS's standing.
Furthermore, BTS member RM shared a picture of his renewed contract on Instagram.
In June of the previous year, the K-pop group had announced their break to pursue solo projects, which had a significant impact on HYBE's publicly-traded shares. The company's stock fell by nearly 25% on June 15, leading to a loss of approximately $1.5 billion in market capitalization.
In October 2022, HYBE revealed that BTS intended to fulfill their mandatory military service in South Korea and reconvene in 2025. The announcement followed months of speculation about whether they might receive an exemption due to their contributions to the country's economy and global cultural exports.
In an official statement released on October 17, 2022, HYBE's subsidiary, BIGHIT MUSIC, confirmed the members' commitment to serving in the military. The oldest member, Jin, was the first to enlist, and J-Hope is also currently serving.
The recent confirmation of the renewed contracts affirms that the group will indeed reunite with HYBE after 2025.
During BTS's hiatus, HYBE continued to achieve success with individual members, such as Jung Kook, who released the hit single "Seven" featuring rapper Latto on July 14. The track debuted at No.1 on the Billboard Hot 100 chart (dated July 29, 2023) and has garnered over 716 million streams on Spotify alone.
HYBE's post-BTS strategy, including a 'multi-label' structure and solo releases by BTS members, has proven successful, despite initial shareholder concerns. In Q2 2023, HYBE reported revenues of KRW 620.99 billion ($470 million), up 21.2% YoY. Digital and physical album sales for the first half of 2023 exceeded those of the entire year 2022, with SEVENTEEN, Stray Kids, and TOMORROW X TOGETHER among the label's top-selling artists.
Additionally, Jimin's solo album "FACE" achieved remarkable success, selling 1.45 million copies worldwide on its first day, making him the first solo K-Pop artist to achieve this milestone.