The new MTN Uganda WakaNet Pocket Mifi is a portable 4G hotspot that comes in a pocket size and supports laptops. It offers 15GB of data that never expires. 
KAMPALA | NOW THEN DIGITAL — The MTN Uganda 4G WakaNet MiFi is a pocket-sized, 4G Wi-Fi hotspot that offers fast and reliable connectivity. It comes with a free 15GB data bundle, and is compatible with up to 10 devices. The device is available for purchase at MTN Service Centers and Banana Phone World.
If you are looking for the best wireless internet service in Uganda, MTN has you covered. This service is affordable, convenient, and secure. It is designed for households that need reliable internet access. It also has portability and no data expiry.

A lack of access to the internet can leave you feeling lonely and depressed, so MTN Uganda is solving that problem with the new MTN WakaNet Pocket Mifi Portable 4G hotspot. The internet hotspot is suited for both moderate and high-speed internet users, and it is available at a discounted price.

The WakaNet Pocket MiFi is available at MTN Service Centres across the country. It comes with a 15GB internet data allowance that has no expiration date. It can also be topped up through the MyMTN app.
Asked about the MTN WakaNet Pocket MiFi, MTN Uganda Chief Marketing Officer, Somdev Sen, said that it offers functionality, convenience, and affordability on a single device.
"With this pocket size 4G WakaNet MiFi, our customers can now enjoy MTN's best-in-class internet wherever they are, be it school, home, and even on the go. This offer comes at a time when more people are working and studying remotely, making the WakaNet Pocket MiFi a great connectivity accessory since it can be easily carried around due to its size," Somdev said.
How to activate
In Aug 2021, MTN Uganda launched MTN WakaNet as a home internet solution. This high-speed wireless network is designed for home users to use for entertainment, e-learning, video calls, and gaming. It is available to customers in select areas of Kampala, Uganda.
The new MTN WakaNet Pocket MiFi can be purchased from any MTN Service Centre in Uganda. The device comes with 15GB of free data, which never expires. The user can top up the data with MyMTN app or by dialing *165*64#. 
The MTN WakaNet data bundles are available in different price ranges. The cheapest data package is 3GB, which costs 10,000 UGX, while the highest package costs 85,000 UGX and offers 45GB of data.
MTN WakaNet data bundle is available at affordable prices, and it never expires. It is available at all MTN Service Centres and Banana Phone World outlets. It can connect up to 10 devices.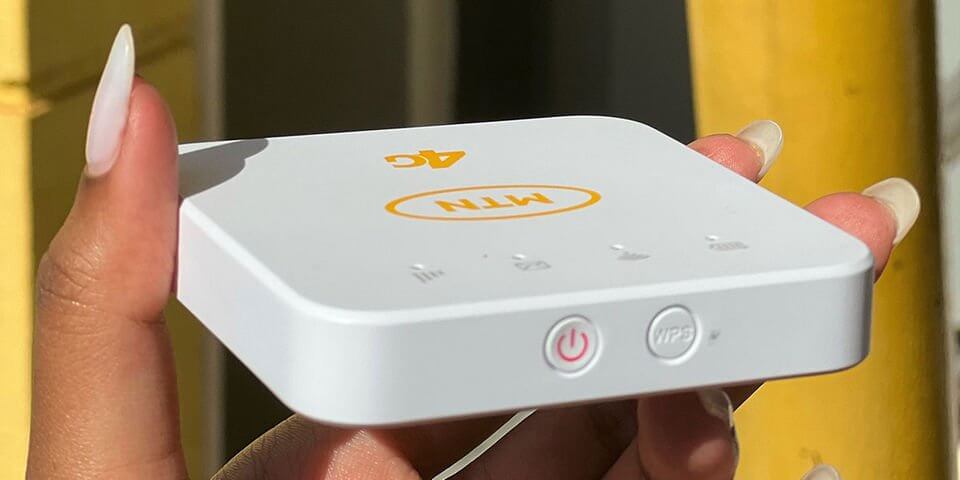 Free No Data expiry
The MTN Uganda WakaNet Pocket MiFi is a pocket-sized 4G Wi-Fi hotspot with a capacity to support up to 10 devices. It is compatible with smartphones, tablets, laptops, e-book readers, portable gaming devices, and mp3 players.
It comes with 15GB of free no expiry data. To subscribe to this plan, simply download the MyMTN app and top up the device. You can buy this high-speed pocket-sized internet device at any MTN Service Center in Uganda. You only have to pay UGX 70,000 for it.
You can also add data to the device by purchasing top-up data bundles, which start at UGX 10,000 for three gigabytes and also never expire. This affordable, high-speed internet device is great for traveling and working on the go.
To test the speed of your Wi-Fi, download NetQ-UG developed by UCC, a free app available in the Google Play Store and iOS App Store. You can also check your internet speed using the Ookla Global Speed Test.
Cost
When it comes to cost, MTN Uganda has a few different packages. Currently, the MTN 4G WakaNet MiFi Packages are affordable and offer 3GB at 10,000 UGX, 5GB at 15,000 UGX, then 12GB at 30,000 UGX, 25GB at 55,000 UGX and lastly 45GB at 85,000 UGX. 
There is no expiration date on any of these packages since they are all Freedom bundles. For additional features, MTN also has a WakaNet Pro option. You can request for this service from your MyMTN app.
Portability
The MTN Uganda 4G WakaNet Pocket MiFi combines portability and affordability while providing reliable internet connections. The cost is only UGX 75,000.
The pocket-sized device can support up to 10 devices. It is suitable for moderate internet users. It is compatible with MTN Uganda's smart devices and is available at affordable prices.
MTN Uganda has a wide range of mobile data bundles and plans, including those specifically designed for WakaNet Pocket MiFi. The MiFi is portable, affordable and comes with 15GB of free data with no expiration date. 
The devices can be recharged using the MyMTN app and are available at most MTN Service Centres. The company's goal is to bring the internet closer to people.
MTN MiFi is ideal for a family or household that needs simultaneous internet access for multiple devices. It is also useful for small and large businesses. It allows users to surf the internet and download mobile applications. 
MTN 4G LTE data plans tend to consume more data than their predecessors, so users should plan their usage accordingly. In Uganda, the two main players in the mobile WiFi gadget market are MTN and Airtel. 
Both companies offer a wide range of data offers. Which one is best for your needs? It depends on your ISP's network and performance in your area. One of the best choices will be the one that allows the most number of simultaneous users.
MTN 4G WakaNet MiFi Packages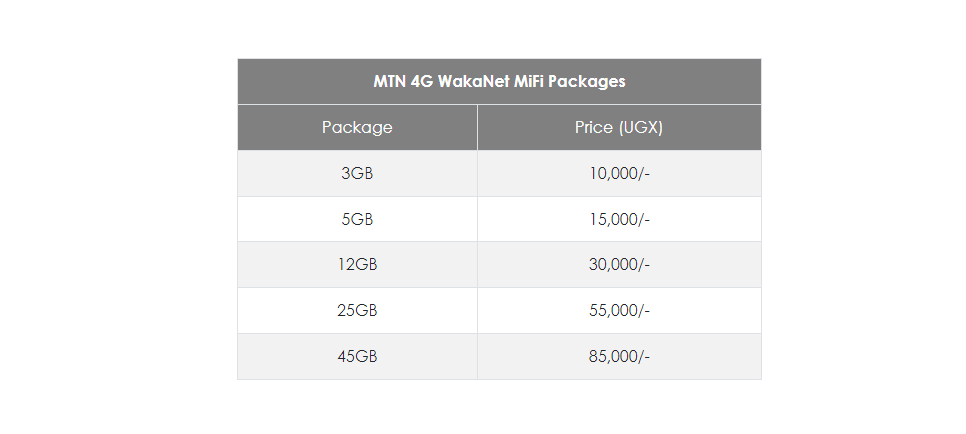 Editor's Note: We would appreciate it if you could reach out to press@nowthendigital.com if you find any outdated or inaccurate content.
You're reading nowthendigital.com — which breaks the news about Uganda, Kenya, Nigeria, South Africa and the rest of the world, day after day. Be sure to check out our homepage for all the latest news, and follow NOW THEN DIGITAL on YouTube, Google, Web Stories, Google News, Medium, Twitter, Reddit, Pinterest and Flipboard to stay in the loop.