Legendary American Rhythm and Blues (R&B) group, Boyz II Men, is set to perform in Uganda as part of their first-ever African tour.
CALIFORNIA, UNITED STATES | NOW THEN DIGITAL — Legendary American R&B group, Boyz II Men, will be performing in Uganda for the first time as part of their debut African tour. The MTN Yetu Festival, set to take place on Sunday 11th June 2023 at Kololo Ceremonial Grounds in Kampala, will also feature Kenya's Sauti Sol band.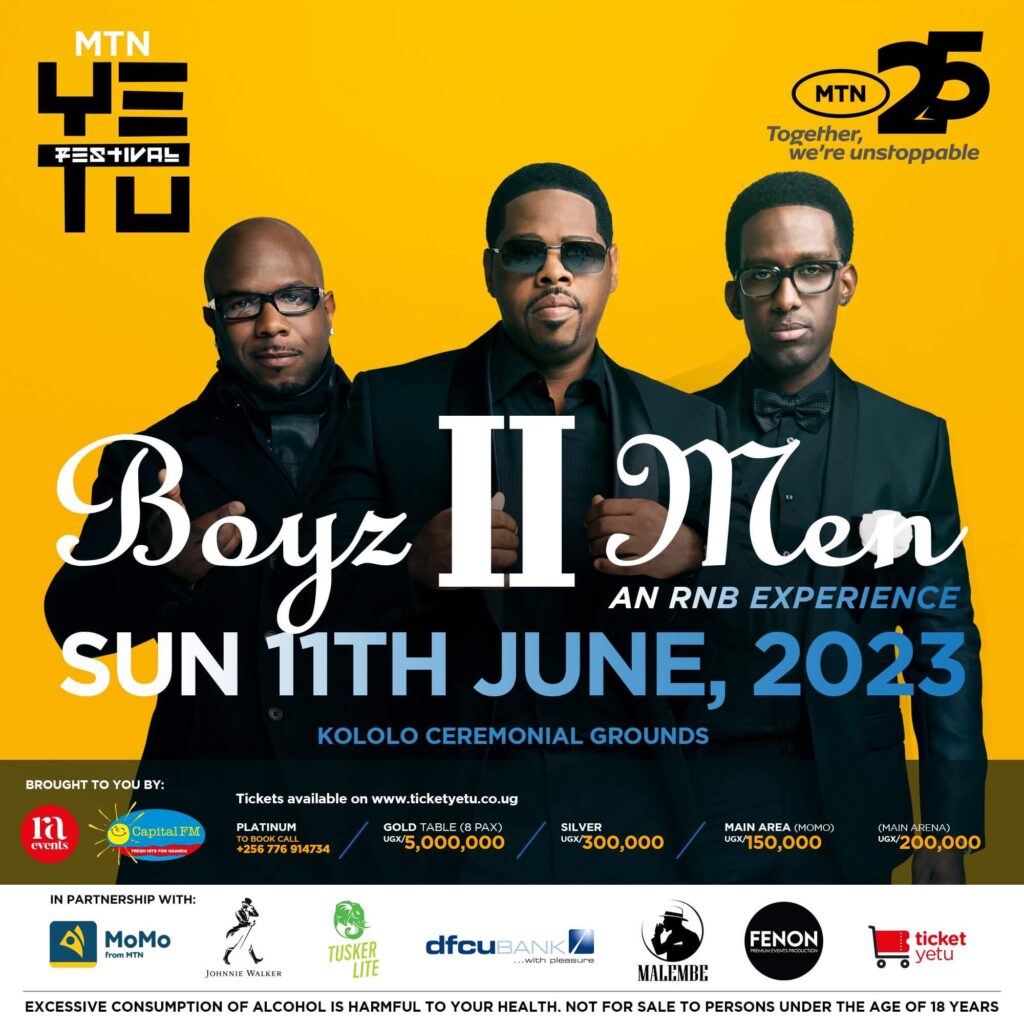 The iconic singers, known for their soulful harmonies and timeless hits such as "End of the Road" and "Bended Knees," will be performing at the 'MTN Yetu Festival' on June 11, 2023, at Kololo ceremonial grounds, Kampala, alongside Kenya's Sauti Sol band.
The event has been organized by Capital FM, and is expected to attract a large crowd of music fans from across Uganda. The festival will be sponsored by MTN Uganda, Johnnie Walker, and Uganda Breweries Limited.
Peter Mungoma, CEO of Capital FM Uganda, said that the event was a sign of the station's commitment to great music and entertainment for its listeners, advertisers, and partners. The festival will be a major boost for Uganda's entertainment sector, and will help to bring people together through the power of music.
"The journey of capital FM since 1994 has been one of great music, great entertainment and great events and so bringing Boyz II Men to Uganda is a sign of our commitment to continue on that journey, for our listeners, advertisers and partners" said Peter Mungoma.
Boyz II Men's timeless hits such as 'End of the Road' and 'Bended Knees' have earned them numerous awards, including four Grammy Awards and nine American Music Awards.
The group's upcoming performance in Uganda, Kenya, and South Africa is expected to be one of the biggest music events of the year.
Ticket pricing and categories
The festival offers various ticket options to cater to diverse preferences. Attendees can opt for a Gold Table, accommodating eight people, priced at Shs5 million.
Alternatively, silver tickets are available for Shs300,000, Main Arena tickets for Shs200,000, and Main Arena (Momo) tickets for Shs150,000. With these options, there's a choice for everyone to enjoy the incredible music of Boyz II Men.
Big sponsors, big names
The event has attracted big-name sponsors, including Uganda Breweries Limited, Johnnie Walker, and DFCU Bank. Emmy Hashakimana, Marketing and Innovation Director for Johnnie Walker, said that the group's blend of talented individuals made them a perfect fit for the brand.
The festival will be a chance for Johnnie Walker to connect with multiple audiences and showcase its product to music fans from across Uganda.
Jude Kansiime, Head of Marketing for DFCU Bank, said that the festival was about more than just entertainment. Music has the power to bring people together and create shared bonds, and the bank is proud to be part of an event that will help to strengthen the community.
High production values
The festival is expected to be well produced, with state-of-the-art equipment shipped in by Fenon Records. Nakato Hafusah from Fenon Records promised that the event would have perfect production, including stage, lighting, and sound.
"If you have seen what Fenon events has done for other events, just know how good the Boys II Men show will be well produced with our state of the art equipment. Expect good lighting, stage , sound and set up at Kololo ceremonial grounds on June 11," she said.
Fans can expect a fantastic show from Boyz II Men, with all the hits that have made the group a defining force in the music industry for over 20 years.
Boyz II Men's African tour is a major milestone for the group, and their performance in Uganda, Kenya, and South Africa is sure to be a highlight of the year for music fans across the continent.
Editor's Note: We would appreciate it if you could reach out to press@nowthendigital.com if you find any outdated or inaccurate content.