Introducing GOtv Supa+ – a tailor-made package that brings you the best of the 2023–24 Premier League and La Liga action right in the comfort of your own home.
KAMPALA, UGANDA | NOW THEN DIGITAL — As the new football season approaches, MultiChoice-owned GOtv is thrilled to unveil its latest offering: GOtv Supa+.
This tailor-made package is a dream come true for die-hard sports fans, presenting the English Premier League, including Pep Guardiola's Manchester City defending their title, on the renowned sports destination – SuperSport.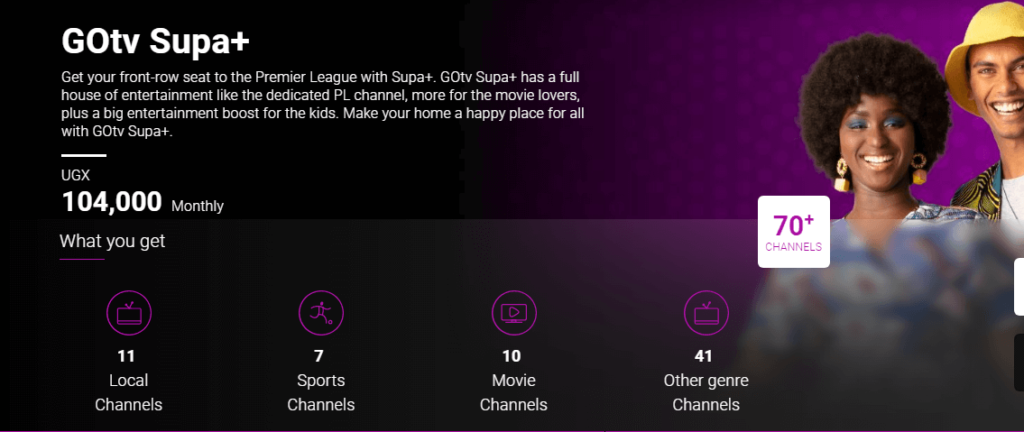 Get ready to immerse yourself in the action as all the exhilarating English Premier League matches are now accessible on GOtv from this season onwards. Subscribe to GOtv Supa+ for an incredible UGX 104,000, easily done through MyGOtvApp and USSD: *206#.
GOtv Supa+ comes packed with an impressive lineup of channels that cater to all your entertainment preferences. With 11 Local Channels, 7 Sports Channels, 10 Movie Channels, and 41 Other genre Channels, there's something for everyone in the family.
For sports enthusiasts, GOtv Supa+ brings you top-tier action from SS Blitz (360), SS Football (361), SS La Liga (362), SS Select 1 (363), SS Select 2 (364), ESPN (367), and WWE (368). You'll have a front-row seat to witness the outstanding performances of football stars like Erling Haaland, Declan Rice, and Marcus Rashford as they battle it out for glory in the world's most-watched league.
But it doesn't end with sports; GOtv Supa+ elevates your entertainment experience with a broad selection of movie channels. Enjoy the latest blockbuster movies and series fresh from Hollywood on channels like M-Net Movies, Studio Universal, and Disney.
For those seeking diverse and captivating programming, GOtv Supa+ has got you covered. Delve into your favorite shows on E! Entertainment, embark on animated adventures with Cartoon Network, or explore the wonders of our planet with National Geographic. With GOtv Supa+, you are in for an unforgettable television experience.
Rinaldi Jamugisa, Head of PR and Corporate Affairs at MultiChoice Uganda, expressed, "GOtv Supa+ provides a diverse selection of local and international entertainment channels, ensuring there's something for everyone's taste. It's the epitome of family entertainment, and we've curated a package that brings our customers the latest sporting spectacles and a diverse range of content for the whole family to enjoy. We are committed to providing excellent value for money, ensuring GOtv remains Africa's most loved storyteller."
Furthermore, GOtv Supa+ is committed to delivering exceptional family entertainment to Ugandans, with a focus on reliability. You can trust GOtv to provide seamless and uninterrupted service, bringing the digital revolution straight into your living rooms.
Don't miss out on the upcoming football season's electrifying lineup! Connect, subscribe, and upgrade to GOtv Supa+ by 1 August 2023 to catch all the action starting from 11 August 2023, exclusively on SuperSport Channel 66.
In the fight against Content Piracy, GOtv encourages its customers to access sporting action from legitimate channels.
This helps support the growth and development of the arts, film, and sports industries and ensures that those involved in these sectors, such as local commentators, sports players, service providers, and their families, can earn a fair income and contribute positively to their communities and the country.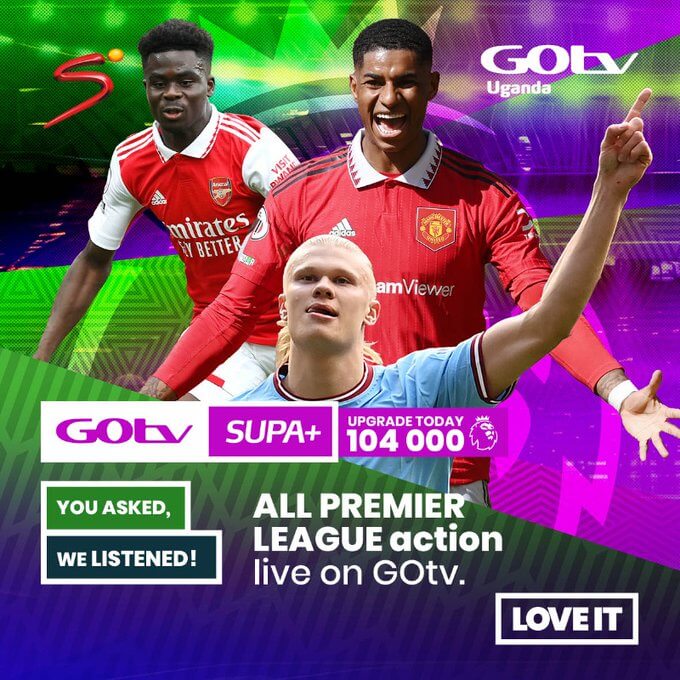 Lois Kwikiriza, Head of Marketing, MultiChoice Uganda, highlighted, "The best football leagues in the world are back from 11th August 2023," and SuperSport will bring the live action of the new season in stunning HD glory and SD to DStv and GOtv football fans across the continent.
"As Uganda's most loved storyteller, GOtv remains committed to our core brand values of relevance, confidence, and delivering the best and most valuable content – making our customers' lives easy by providing excellent value for money and offering a hyper-local platform that resonates with African audiences," Kwikiriza added.
To spread the excitement of GOtv Supa+, MultiChoice will be taking the Supa experience to major regional cities and towns across Uganda, including Jinja, Mbale, Gulu, Masaka, Bweyogerere, Kabalagala, Lacho, Kizungu, Nalukololgo, and more.
Starting from 1 August 2023, GOtv Supa+ will also be available in Mozambique, Kenya, Ghana, Namibia, Zambia, Nigeria, Malawi, and Kenya. Upgrade today and turn your home into a happy place for all with GOtv Supa+.
Elevate your football experience to a whole new level with GOtv Supa+📺!

Catch ALL the English Premier League action on GOtv starting this season ⚽️🏆

Subscribe to GOtv Supa+ at UGX 104,000 using;

MyGOtvApp
USSD: *206# #GOtvSupa+ #GOtvFootballMadness #FeelsGoodToFootball

— GOtv Uganda (@GOtvUganda) August 1, 2023
Editor's Note: Please contact press@nowthendigital.com if you find any of the content to be inaccurate or outdated.